Australia experiences some of the most extreme and unpredictable weather conditions in the world. Knowing this, surely you'd want to ensure that the fabric shelter you build on your site is resilient enough to withstand the elements. Your fabric shelter should be designed and engineered to 'weather the elements'. If you cannot rely on your shelter structure to serve as a full shield for your business—your assets, machinery, equipment, supplies, and workforce— then what is the point of getting one? In this article, we cover the importance of shelter wind ratings.
For example, we like to use the analogy of building in flame-zone or bushfire-prone areas. If you are situated in an area like this, you'd want to ensure your build you out of fire-rated or fire-proof materials.
When it comes to fabric shelters, why wouldn't you want to ensure that the structure is designed and engineered for the right wind rating?
When engineering a fabric shelter (or any structure for that matter) you need to consider the wind rating. What's the maximum wind speed that could come upon the area you're going to install the structure?
What Are Wind Ratings
Wind ratings are part of an engineering procedure. They're used to determine wind speeds and resulting wind actions to be taken into account with structural design. This vital process identifies different regions in Australia that have various wind ratings. And each shelter to be erected in a specific region in the country has a specific wind rating as well to comply with the different wind codes.
According to the Australian New Zealand Standard 1170.2 (AS/NZS 110.2) for 'Structural Design Actions', Australia is divided into four main wind regions:
Region A – 147.6 km/h
Region B – 186.8 km/h
Region C – 204.5 km/h
Region D – 247.7 km/h
For more information on shelter wind ratings, check out this article.
Why Is It Important to Have Your Shelter Wind-rated?
When your shelter is wind-rated according to the climate and terrain, you don't need to worry if high winds strike at a moment's notice. You'll be assured that your equipment will be protected. Your employees will be able to continue working allowing them to be more efficient and safeguarded. And, you'll be able to avoid spending more money for repairs or purchasing another.
It is important that you choose a fabric shelter that is wind-rated. Otherwise, a shelter that does not have a wind rating could pose a risk – damages, injury, or losses. There can be financial impacts from replacement shelters if it is not designed for the correct wind region (or not wind-rated at all), and it fails. Financial impacts can include get-out clauses from insurers for damaged gear. But, worst of all, a failed shelter could cause injury or loss of life.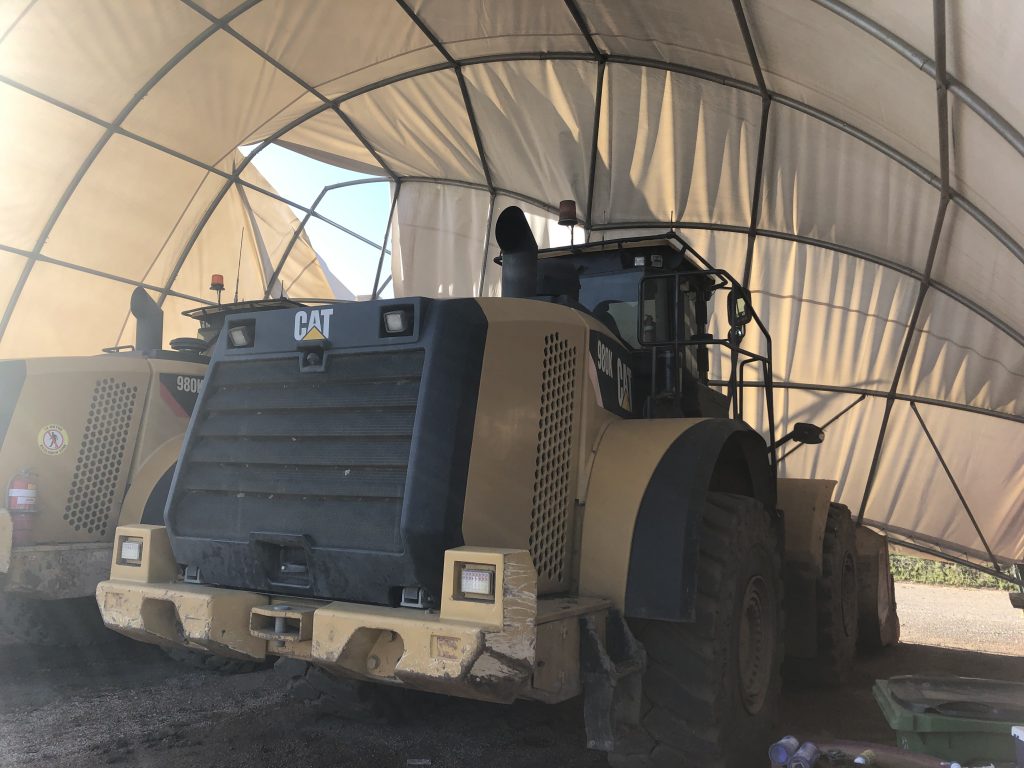 How Allshelter Stacks Up
Is a wind-rated fabric shelter important to you? With an Allshelter-branded fabric shelter, you don't need to remove the cover, even in a severe storm or cyclone. Covers designed for cyclonic conditions can withstand winds of up to and over 300km per hour. So, when we say Allshelter controls your tomorrow, we take it very seriously. Our shelters are built to strict ISO certified processes, which is why you get a 10-year warranty on our shelters.
However, not all fabric shelters in the market are built to the same strict processes or are even engineered to these wind ratings. But with an Allshelter fabric shelter, you'll be confident that it will serve as a resilient home for your assets that guarantees ultimate protection for years. Check out our product page to know more about our engineered container shelters.
In conclusion, can you see the importance and benefits of a wind-rated fabric shelter?