Today's blog is about the history of container shelter. It's the innovative adaptation of an old invention.
Fueled by the desire to thrive on the ever-changing world of business, our industry leaders continuously rack their brains to come up with viable solutions to specific business pain points. They experiment, create new tools, upgrade solutions, or come up with new practices that are easy to use, easy to do, efficient, effective and yet inexpensive. Indeed, it's truly genius when inventors continuously reinvent our ways of doing things for the sake of becoming better and doing better.
Better is the word we can use to describe 'Container Shelter'. Container shelter is a proof that the fusion of old and new can be an excellent solution to storage challenges. Merged with the new dome-like waterproof fabric membranes and the old shipping containers we know, the container dome provides flexible storage facility which serves as total protection against the harsh natural elements. In fact, it's often referred to as the 'strongest box in the world' as it's a modular shelter system that is cost-effective, sturdy, transportable, and can be easily deployed. While it withstood the test of time, it remains to be a 'box open to more commercial and industrial possibilities'.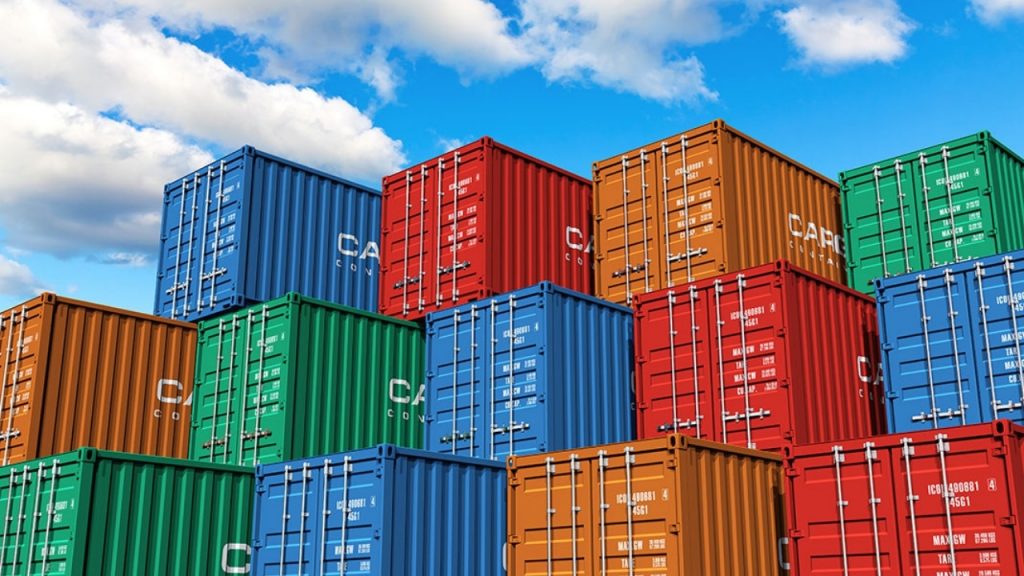 THE SHIPPING CONTAINER
Nearly 70 years ago, Malcolm Mclean, an American trucking firm owner, set off a revolution in international trade with a 'relatively' simple concept. He resisted the laborious and costly process called 'break bulk' where by all maritime freight was loaded one by one onto a truck or train, driven to the dock where each box would be unloaded and hoisted into the ship. At the ship's port of destination, the entire process would reverse.
McLean had a vision for a system in which cargo would be lifted as one single bulk from trucks to ships to trains and back again without any loss or delay.
By 1956, he invented the modern steel shipping container and introduced a new model called 'containerisation'. His concept allowed for the reinforced metal containers to be loaded directly from the truck onto the ship, forever changing how freight is shipped around the world. 'Containerisation' increased in momentum when the U.S. military started developing such units on a large scale using the concept to rapidly and efficiently resupply its forces abroad. However, due to some transportation companies within the United States adopting their own container sizes, logistical and incompatibility problems arose.
Furthermore, European container sizes were not congruent with the American industry. By 1958, it was apparent that national and international standards and regulations needed to be introduced in order to address the scope of control and efficiency.
In the summer of 1959 container sizes had been regulated to 40'x8'x8′ and 20'x8'x8′ for international shipment. The standards for containers were published between 1968 and 1970 by the International Maritime Organisation encompassing consistency in loading, transporting and unloading of goods in ports throughout the world.
Additionally, it provided the tapestry for a global containerised intermodal freight transport system allowing for saved time and resources. "Intermodal" means that the metal containers can be moved from one mode of transport to another without unloading or reloading the contents of the container. The ISO shipping container became accepted globally by every shipping line.
THE MANY USES OF THE SHIPPING CONTAINER
The principle use for shipping containers is for international ocean shipping, truck, or train freight. However, the military was perhaps the first to realize its versatility as storage units and subsequently its value as strong military housing, offices, medical facilities and much more.
The revolution of the shipping economy led to massive excesses of containers and the interest shifted when the world realized that shipping containers were stacking up in the ports of every major city in the world. This situation provided additional opportunities to discover further uses for this strong box which would not only hold tons of cargo inside but easily withstand the weight of 8 or 10 more fully loaded containers on the top of it.
Conversely, when the shipping container is used for any other purpose, other than transportation, the name for the ISO shipping container becomes ISBU (Intermodal Steel Building Unit). For many years shipping containers have been used as secure storage units by construction companies. They were soon modified and used as small workshops, refrigerators, offices, emergency shelter or low income housing etc…
Shipping container lodgings have been considered and developed as a result of an architectural interest in merging mobility and manufacturing into building construction. However, in most developed countries, container housing continues to be a somewhat radical concept despite a significant shift in trends since 2006.
Building up a project is always a challenging task requiring secure storage facilities for valuable equipment and stock as well as protection from extreme weather conditions. Furthermore, the resources and construction industries are continually in need of shelter from the elements which can at times erode the resources of the operation.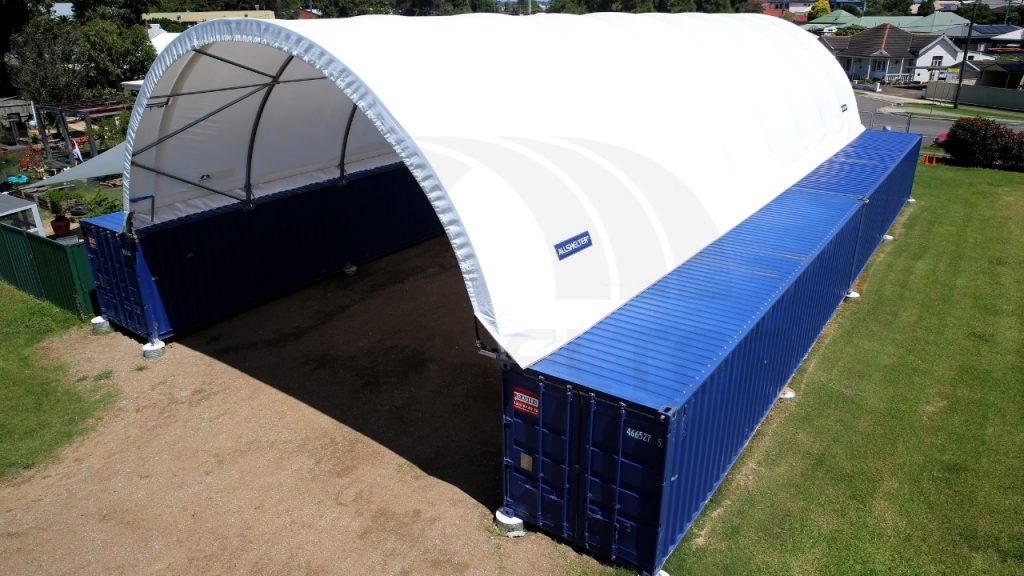 THE HISTORY OF THE CONTAINER SHELTER
The birth of the container shelter concept became possible when a customer asked if we could mount the dome to some shipping containers. This special query of the customer Allshelter a light bulb moment to develop the container shelter concept. It's a new and unique shelter solution that is relocatable. It is quick to erect and cost effective. At the same time was strong and had the quality to remain as a permanent solution.
This concept filtered to our shores. Allshelter was the first Australian company to construct this alternative shelter system engineered by tensioning a high strength woven polyethylene fabric over a curved lightweight steel framework. This unparalleled solution was primarily developed to meet the need of the mining and resources sector for a robust yet rapidly deployable and temporary shelter which could be moved from site to site or contract to contract.
Their easy-to-install framework has the flexibility to be mounted on various container configuration providing the highest quality weather protection systems covers to the widest imaginable range of assets in most market sectors including military, community, industrial, mining, construction, aviation and, of course, agriculture. Allshelter weather protection systems are easy to take down and transport in case of relocation.
Check out our range of engineered container shelters in the size selector. Through this, you can enter your required width and height and the size selector will match you with ideal container-mounted shelter options.
So whether it is a short term project for temporary storage or a long term storage needing something flexible and efficient, Allshelter weather protection systems has the enduring response to the essential reason people build to create shelter and protection from danger.
*This blog was updated on 16 August 2021.