By Christmas the same year, the Bateman's Bay region was impacted by a bushfire. The fire circled the entire pre-cast facility but the shelter was not impacted! 
Check out the footage below, showing the aftermath of the fire.
Read on to learn more about this project.
Scope
When finished, the Bateman's Bay Bridge replacement project will build better connections for motorists, logistics, river users, cyclists & pedestrians in the area.
The construction of the bridge involves the pouring of 166 concrete segments for the project; and for this purpose, a temporary pre-cast facility was to be built about six kilometres south of Mogo, NSW. The major benefits of this location included minimising environmental impact by using an existing quarry site, and reducing heavy vehicle movements in the Batemans Bay town centre.
The main contractor, John Holland & VSL Partnernship, engaged Allshelter to come up with a solution for covering an on-site pre-cast facility. It was a very specific need, as a large shed or shelter measuring 33m wide by 100m long by 20m high was needed. The other requirement included installing the facility in a short time-frame and whilst other site activities were going on!
Solution
The Allshelter project management team went to work right away, visiting the site Bateman's Bay to view and discuss the specific requirements; and working with the engineers to come up with a suitable design. Allshelter worked in consultation with the client on all designs and solutions. Allshelter was able to produce a Fabric Building designed to the exact dimensions and specifications. Allshelter were also able to come up with a way of installing the shelter whilst other site activities were going on – a huge advantage for the client, as the project was able to be kept to schedule.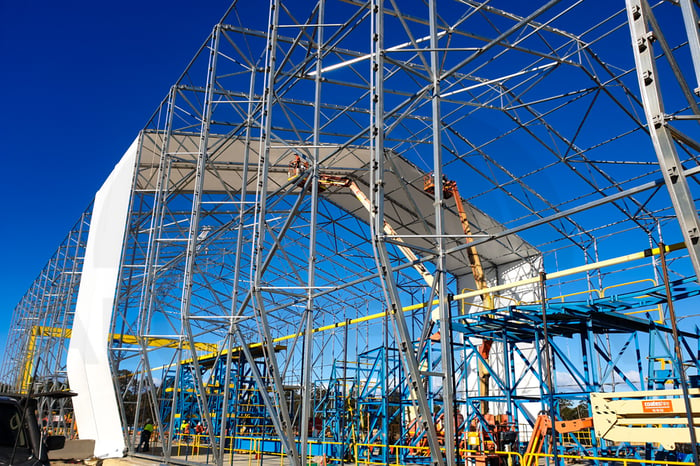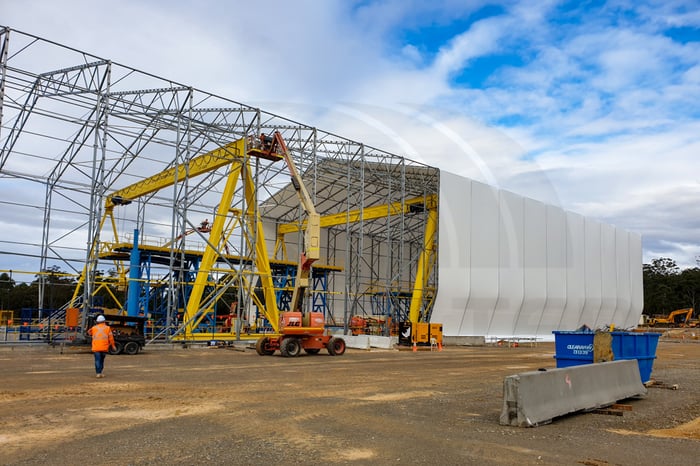 Outcome: Fabric Shelter
John Holland & VSL Partnership were extremely satisfied with the final results. The new fabric building proving very much a viable alternative to a steel shed, for the following reasons:
Relocatable – the shelter can be moved to another location when the project is complete
Lighting – due to the nature of the fabric, it lets in a lot of light so the artificial lighting doesn't need to be used during the day
Installation flexibility – the shelter could be installed without an impact on other site activities
Click here to learn more why Allshelter's fabric shelters are strong.
As mentioned above, the Bateman's Bay Region was hit hard by a large, out-of-control bushfire in December 2019. The fire damaged property, leaving some residents homeless. The client was extremely impressed with the quality of the Fabric Building, as it was not impacted by the fire.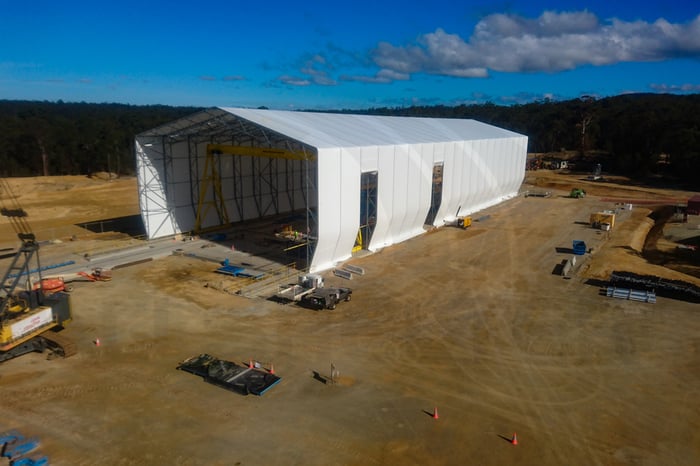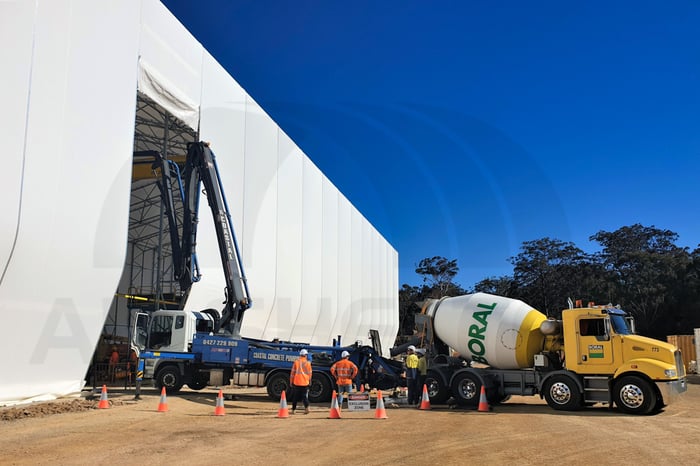 Testimonial
"Our John Holland and VSL bridge building partnership engaged Allshelter to come up with a solution for covering an on-site Pre-Cast Facility. It was a very specific need – as we needed a large shed or shelter measuring 33m wide, 100m long by 20m high. Due to the nature of the project, the shelter needed to be erected in a very short space of time and also needed to be able to be relocated from the site when the project finished. Allshelter responded very professionally and efficiently to our needs , and were able to work to our tight timeline. Once the order had been placed we received regular updates about the shelter manufacture and delivery.

The shelter was delivered on schedule, and Allshelter assisted us with the installation of the shelter. Allshelter was and is fantastic to work with, they were able to come up with a way for the shelter to be installed whilst other site activities were going on – a huge advantage for us.

This shelter is an excellent investment and provides benefits to us in many other ways: The shelter fabric lets the light in, which means that we don't need lighting during the day. It's also cooler, as the fabric doesn't radiate heat and being open ended it allows for airflow.

This area was also recently extensively burnt during the disastrous NSW south coast bushfires over summer. The fire circled the whole pre-cast facility yard, but the shelter was not impacted. It is still standing and there's virtually no damage to it! We're very impressed with the quality of Allshelter's product and the workmanship.

I would highly recommend Allshelter to other companies looking for sheds or shelters – the quality and service is fantastic. Allshelter is an innovative company – they really made it work for us!"

Owen Vickers– Pre-Cast Facility Manager
John Holland / VSL